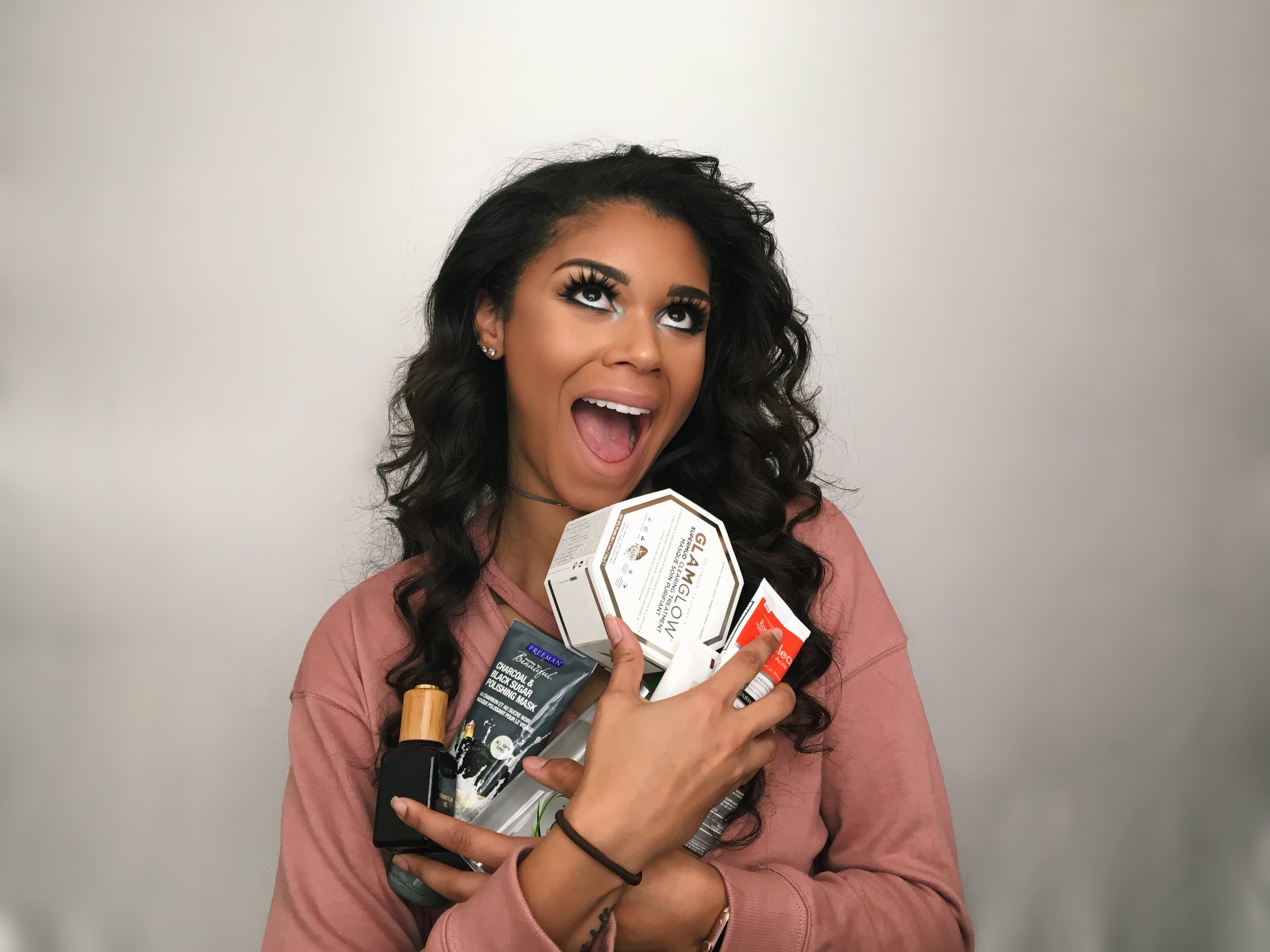 Did you really take it off...?
If you read my 5 New Years Beauty Resolutions blog, you will see that the number one thing we need to do most is to take our makeup off EVERY night before going to sleep.
It's one thing to take your makeup off, it's another to actually do it correctly!
Leaving your makeup on at night can cause an entire array of issues, including clogged pores and acne forming overnight, rashes, dull skin, irritated eyes, dry skin, and even infections!
If you think you get all of your makeup off that's great, but here are a few of my foolproof ways that are simple to try and some of my favorite products used to get all of your makeup off every time!
1. Did you really take it off?
Sometimes you may go over your face with a wipe, wash your face and finish your routine. But did you really get everything off? A fool proof way to see if all your make up is gone is to simply add a toner or a micellar cleansing water to your routine!
Using a toner after cleansing not only neutralizes your skin ph and helps from excess oil production, but it's a good indicator of if you still have makeup on after cleansing. A micellar cleansing water after makeup removal ensures your makeup is gone and gently preps your face for cleansing. Use this lightly over your face after washing your face and if the pad is clear, you're in the clear.
But don't confuse dead skin with makeup either! Usually a lot of dead skin can pile up on our necks, so if you see a lot of spots after the neck you're most likely fine, but start cleansing your neck too!
2. Are you using the right products?
Most likely soap and water or your typical face wash will not do the trick to take off all your makeup. You need to specifically take it off BEFORE cleansing to ensure not that not only is your makeup off, but that your skin cleanser actually reaches your skin and penetrates the skin surface.
Below are a few of my favorite makeup removing products to add to your routine:
My personal favorite that ensures I get all of my makeup off! This is the only product I really need and it is reusable, environmentally friendly and saves you a lot of money!
-Neutrogena Oil-free Eye Makeup Remover:
I am a huge fan of Neutrogena because they offer so many oil-free products which is great for people with oily skin! I dip this in a cue-tip and use over my eyelash extensions to keep them clean as well as to get as close to the lash line as possible to remove my eyeliner.
-Neutrogena Fragrance Free Cleansing Towelettes:
Along with the eye makeup remover, these towelettes are very popular with people to remove makeup and leave your skin feeling gentle without a greasy film over your face.
-Simple Kind to Skin Cleansing Facial Wipes:
Here's another variation of the Neutrogena wipes, but if you have sensitive skin these are the wipes for you! They are less harsh on the skin and can pair well with your
-Simple Micellar Cleansing Water:
This is the most gently makeup remover you can find for all you sensitive skin folks, or you ladies who need two steps to take off your makeup at night. Worth the investment and lasts for a long time!
3. How do your Pillows Look?
Have you ever woken up in the morning and have some spots left on your pillows and don't know what from? Well, it's either drool or your left some makeup on!
Be sure to check your pillows before sleeping on them and after in the morning to see the difference. And if there are spots left, throw them in the wash! If you accidentally left your makeup on one night, make sure to change the pillow cases after.
The leftover makeup on the pillow won't only ruin your cases and stay on your bed, but it can also transfer back onto your face overnight and end up clogging your pores. The makeup left on your pillow wont be the same either because it will be collecting all the bacteria floating around in your bed overnight and you don't want that back in your face!
Either way, you should change your cases at least every 3 days to a week to ensure healthy sleep and less bacteria transferred onto your face from rogue makeup.
All websites listed above offer Ebates cashback! Sign up using this link to get a $10 initial signup bonus:
https://www.ebates.com/r/NBASHL?eeid=28187
Instagram: https://www.instagram.com/battle4beauty/
Facebook: https://www.facebook.com/battleforbeauty/
Youtube: https://www.youtube.com/battleforbeauty
COUPON CODES:
mandycosmetics.com: enter "Ashley10" for 10% off your purchase
noranyc.com: enter "NewShades" for 10% off your purchase
beauclaireovalbrushes.ie: enter "battle4beauty" for $20 off your purchase!
xoxo,
Battleforbeauty <3