Hey guys! On my Youtube I filmed a full review on the entire line of beautyblender and whether or not their products were worth the money. Check the video out here!
Product Grades:
1. Original Beauty Blender: A+
This blender is by far the best product out of their entire lineup. This little sponge is more than perfect for blending out cream products with a flawless finish. I prefer to use this blender to blend out my concealers, but can be used for foundation, contour, highlight, anything cream you want! Never had a problem blending with it dry or damp, but damp is the way to go.
2. Beautyblender Pro: B
This sponge is definitely NOT the same as an original beautyblender. It feels more dense and coarse, but it is the best beautyblender sponge to blend out foundation with. I feel the texture is better to blend out heavier products such as foundation, but doesn't give me as flawless a finish on my concealers and cream contours as the original. It works great! Just not as great to me as the original beautyblender.
3. Beautyblender Micro Mini's: D-
That D- does NOT reflect the quality of these little things, only the PRICE!! I CANNOT justify buying two of these little things for almost the same price as the original beautyblender. I do love these for blending out cream highlighters and pushing concealer right to my little under eye creases and corners. This product is FABULOUS for the ultimate precise makeup, but I can be as precise with my fingers and normal beautyblender.
4. Bodyblender by Beautyblender: C
If you're trying to blend out your face in a hurry, go ahead and pick this up. But this is called a BODY blender for a reason; to blend out BODY MAKEUP! This blender has the perfect shape to blend out makeup in the creases of your body such as collar bones, but if you bring this anywhere near your face, you simply will not have much control over how you blend. The texture is better for your body than your face, and if you get it damp, you can get rid of using this on your face completely, because it is SO BIG it will cover your entire face! Love this for body makeup, but if you're like me and never wear it, I'll give this one a hard pass.
5. Blotterazzi by Beautyblender: B
If you watch my video you know how badly I wanted to love this thing!! The concept is perfection! From giving you not one, but TWO dry blenders, including a lining between the blenders, an air vent to let them breathe AND a mirror?? They were too generous! Unfortunately, I feel like I have to press very hard for a long time to get the excess oil off my face onto the blender, and by then more of my makeup has come off before I wanted it to. I give it an A for concept and effort, but a B for function.
6. Beautyblender blendercleanser: A-
I LOVE LOVE LOVEEE this cleanser! It is perfect for both beautyblenders and brushes and you do not have to use a lot of product to get a good amount of payoff for your brushes. Only thing I dislike about this is the packaging. Don't get me wrong, the bottle is cute! But I just can't seem to figure out how to work with the pump. *check my video for more details. I wish it were just a standard pump.
7. Beautyblender blendercleanser Solid: A+++
YES. Just yes. I rub my blenders and brushes on this and I have never seen them look so clean! I've heard a lot of feedback that you can get the same kind of clean using hotel soap for free rather than this product, but I will still keep buying this. It is gentle on my brushes, two swipes and it's clean, and there's a drying mat for your cleanser so it never gets overused. Absolutely in love; best brush cleaner out there!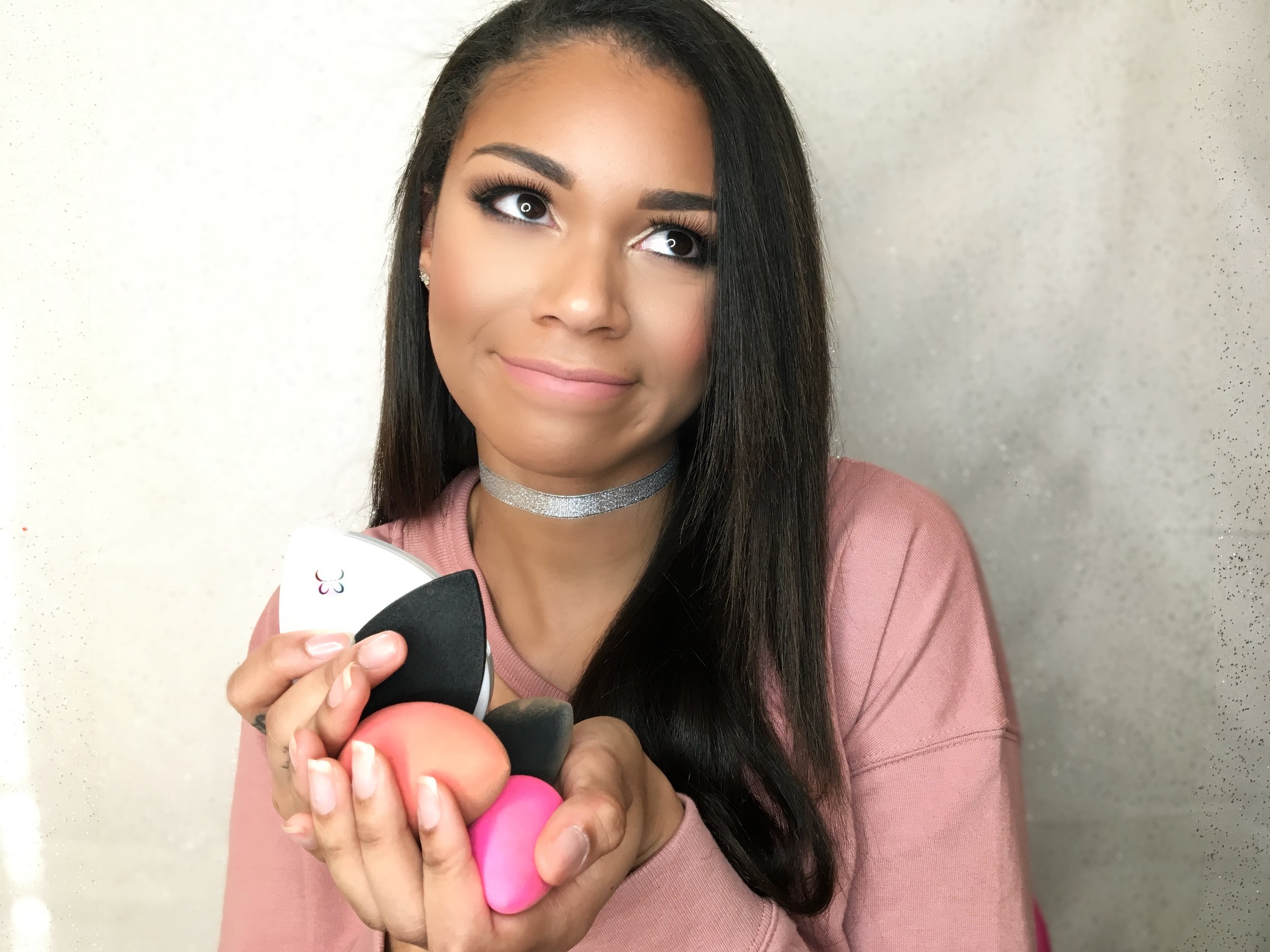 BeautyBlender Overall Grade?
I love my beautyblenders and I think they are far worth the money. I've tried other cheaper blenders and they for some reason just aren't the same. There are new ones coming out on the market from other brands that are worth checking out but I would have to deem myself brand loyal to these little babies!
The only thing about this sponge you need to be aware of (as with all beautyblenders, makeup brushes that get wet or have cream product buildup) is to keep them stored in dry place and wash them often! If you do not wash, they will accumulate mold and will have to replace repeatedly. The canister in which each beautyblender comes in is where you should store it, or in a closed drawer.
Want more product reviews? Contact me at any of my social channels below :)
xoxo,
battleforbeauty <3
Instagram: https://www.instagram.com/battle4beauty/
Facebook: https://www.facebook.com/battleforbeauty/
Youtube: https://www.youtube.com/battleforbeauty
COUPON CODES:
mandycosmetics.com: enter "Ashley10" for 10% off your purchase
noranyc.com: enter "NewShades" for 10% off your purchase